Charlotte Rutter
Project: Multi-level modelling of international variations and time trends in asthma and allergic diseases in children and adults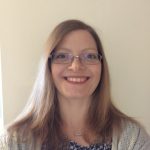 What were you doing before you joined the MRC DTP scheme?
MSc Medical Statistics at LSHTM.
Why did you choose your primary institution (LSHTM or SGUL)?
I really enjoyed doing my Masters at LSHTM and they had plenty of opportunities for applying for PhD funding.
What do you enjoy most about your day-to-day work and the people you work with?
There is a large amount of flexibility in day to day working. It's good to be able to collaborate with people from different fields and specialties.
What do you value most about the MRC DTP studentship?
There is a dedicated admin team to assist with any queries and there are lots of training opportunities and cohort days.
What additional training have you attended with MRC DTP money?
I have attended Masters modules at LSHTM which are already included in the tuition, such as Epi and 'Omics and ENCD along with a distance learning module on the Principles of Biology. I have also attended short courses on missing data and GIS mapping.
Where did you go on your placement? What did you do?
Due to childcare commitments, I split my placement between Brazil and Bristol. I spent 6 weeks in Salvador on a combination of 1. Shadowing work at CIDACS, a data analysis centre, to see what routine databases are readily available for analysis compared to the UK, and 2. Attending a local clinic to view data collection and lab work and assist with data input for the Brazilian arm of a global asthma study. The other six weeks were spent between Bristol and working from home, on a project investigating the effects of measurement error within UK Biobank. Plus, I also viewed the data collection and lab work for the Bristol arm of the same global asthma study.
Do you have any tips for future MRC DTP scholarship applicants?
Try to have a clear idea of the question you want to answer for your thesis but don't be afraid to amend this once you've started. Also, make the most of any extra opportunities available early on in your PhD as it's harder to find the time when you get near the end.