Eleanor Rees
Project: Modelling leptospirosis at the animal-human interface in island populations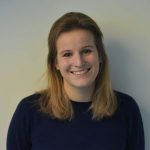 What were you doing before you joined the MRC DTP scheme?
I worked for the Animal and Plant health Agency as a scientific modeller, and before that for Public Health England as an epidemiologist.
Why did you choose your primary institution (LSHTM or SGUL)?
I did a masters in epidemiology at LSHTM and loved the research environment.
What do you enjoy most about your day-to-day work and the people you work with?
Everyone is interested and supportive, and I always feel like I have someone to turn to with questions. I really enjoy the number of seminars and lectures, which allow you to broaden your knowledge outside of your immediate research area.
What do you value most about the MRC DTP studentship?
The financial support available for the DTP allows me to make the most of opportunities for additional training and conferences. I also appreciate the emphasis on training and building skills, and I feel like I have learnt so much over the course of my PhD.
What additional training have you attended with MRC DTP money?
I attended the Summer Institute in Statistics and Modelling in Infectious Diseases in Seattle, as well as a number of training courses based at LSHTM. These have provided me with a greater understanding of modelling and statistics.
Do you have any tips for future MRC DTP scholarship applicants?
Speak to your potential supervisors before applying. Also, think about the skills that you will be learning during your PhD, and how these fit it in with what you hope to do afterwards.