Emily Woodcock
Project: A new approach to understanding cancer metabolism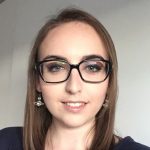 What were you doing before you joined the MRC DTP scheme?
I was working in the admin department for a local building society following my graduation in MSci Biology at the University of Nottingham.
Why did you choose your primary institution (LSHTM or SGUL)?
My primary institution is SGUL, which is the UK's only university to specialise in medicine and healthcare. The university also has a diverse range of research areas including infection, immunity and molecular sciences.
What do you enjoy most about your day-to-day work and the people you work with?
SGUL provides an excellent working environment. The people I work with are so helpful and driven to do great research. The thing I enjoy most about my day-to-day work is that I get to conduct new research on a topic which really interests me.
What do you value most about the MRC DTP studentship?
I really love the sense of community within the MRC DTP scheme. I have made so many friends through the scheme as we have training and socials together
Do you have any tips for future MRC DTP scholarship applicants?
The number one tip I would give is to be enthusiastic about the work you are planning to conduct. I was shocked when I found out that I had got my place on the MRC DTP scholarship because I was applying for a topic I had not studied before. I was passionate about cancer research and was genuinely excited about the work I would be conducting during my PhD so I made sure this came across in my application and interview.