Eve Doran
Project: Novel transmission blocking strategies for leishmaniasis through CRISPR-Cas9 genetic modification of midgut attachment to sand fly vectors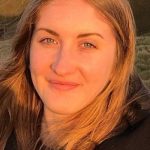 What were you doing before you joined the MRC DTP scheme?
I was working as a research assistant in a chicken immunology lab at the University of Cambridge. Before this I was studying for a masters degree at the Liverpool School of Tropical Medicine.
Why did you choose your primary institution (LSHTM or SGUL)?
I have always wanted to work in the field of parasitology and so studying at an institution renowned for this, like LSHTM, was the perfect fit. It is nice to be surrounded by like-minded people with similar scientific interests and goals.
What do you enjoy most about your day-to-day work and the people you work with?
I enjoy being able to work in the lab every day, doing a variety of experiments. Everyone I work with is friendly, willing to help if needed and share their expertise
What do you value most about the MRC DTP studentship?
I value the focus on exploring opportunities outside of your project and being part of a large cohort of students who are happy to give advice and share their experiences.
Do you have any tips for future MRC DTP scholarship applicants?
3.5 years is a long time, so make sure the project you apply for is right for you. Speak to the supervisors of the project prior to committing yourself to get a better idea of what you will be doing and to improve your application.