Georgia Gore-Langton
Project: Investigating the pathways to adverse pregnancy outcomes among women infected with malaria infection and/or sexually transmitted/reproductive tract infections during pregnancy in sub-Saharan Africa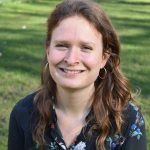 What were you doing before you joined the MRC DTP scheme?
Working at LSHTM as a Research Fellow analysing entomological data from various mosquito net trials.
Why did you choose your primary institution (LSHTM or SGUL)?
I knew that there were academics at LSHTM working on things similar to my areas of interest and from whom I could learn a lot.
What do you enjoy most about your day-to-day work and the people you work with?
I enjoy the variety of the components that make up my PhD; reading, analysing data, learning programming skills, teaching, attending courses, improving writing skills, and many other things. It is also very nice to be able to get in touch with people in LSHTM working on things you are interested in or need help with and know they will most likely be happy to speak.
What do you value most about the MRC DTP studentship?
The additional money with which to attend training courses is very useful.
What additional training have you attended with MRC DTP money?
I did a short course- "Modern Techniques for Modelling Infectious Disease Dynamics" at LSHTM in person before the pandemic which was a really nice way to meet others working on similar things. I have also just attended a two week course (over Zoom sadly) titled "Mathematical Models for Infectious Disease Dynamics" (Wellcome Genome Campus Advanced Course) which was really interesting and helpful for me to progress on the next bit of my PhD.
Where did you go on your placement? What did you do?
I have no yet done my placement, I am hoping to do it later this year (2021) when foreign travel might be possible again.
Do you have any tips for future MRC DTP scholarship applicants?
Make sure to choose a project on a topic interests you, it helps a lot with maintaining motivation!