Hannah Painter
Project Title: Accelerating the development of effective mucosal vaccines for protection against Mycobacterium tuberculosis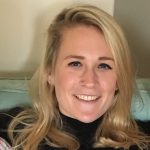 What were you doing before you joined the MRC DTP scheme?
Prior to joining the MRC-DTP scheme I worked as a freelance medical editor, predominantly editing medical text books and scientific journals.
Why did you choose your primary institution (LSHTM or SGUL)?
I chose LSHTM as my primary institution largely because the project I was most interested in was based there. I am lucky enough to work in collaboration with my second supervisor at SGUL so I get to work and utilise the facilities at both institutions on a regular basis.
What do you enjoy most about your day-to-day work and the people you work with?
I enjoy the independent thinking and problem solving the most; although this is the most challenging aspect as well. My project includes both animal work and work in the containment level-3 facility at LSHTM – the staff and other users working in both facilities are incredibly friendly and approachable, and have helped me a lot with training and experimental design.
What do you value most about the MRC DTP studentship?
The MRC DTP studentship offers lots of training and placement opportunities. I have been fully funded for two placements during the programme. They have also funded a public engagement project which a number of students from the programme are part of. The project has given us the opportunity to visit secondary schools and provide an introduction to the diversity of science-based careers via an interactive workshop on outbreak control.
What additional training have you attended with MRC DTP money?
I attended a two-week quantitative immunology course at Hong Kong University which included daily lectures from experts in the field, as well as wet- and dry-lab practicals. I also attended a two-day RNA-seq and ChIP-seq course at the University of Cambridge.
Where did you go on your placement? What did you do?
I went to the South African Tuberculosis Vaccine Initiative (SATVI) in Cape Town (South Africa) for my three-month placement. I worked on a predictive and diagnostic signature of BCG-IRIS in HIV-positive infants which had been generated by machine learning on a microarray dataset. The project largely focused on reproduction of the models used to generate the signatures and subsequent reparameterization for a qRT-PCR platform. I am part of a very small research group at LSHTM; as well as all the bioinformatics experience I gained, I was also able to experience being part of a very large research group at SATVI.
I have received additional funding from the MRC to undertake an industrial placement for three months in January 2020. An ex vivo challenge model developed during my PhD will be used to analyse to TB vaccine candidates developed at the Infectious Disease Research Institute in Seattle (USA). In addition, I will use an RNA Seq pipeline written during my PhD to analyse samples from an MTB challenge study performed at the Institute.
Do you have any tips for future MRC DTP scholarship applicants?
The application process for the MRC DTP scholarship seems daunting at first but don't let this put you off. The majority of the other scholarships I'd applied for only requested a personal statement, compared with a three-page research proposal for MRC DTP. However, I found that writing the proposal was very good confirmation that I wanted to do a PhD and that the project I applied for was right for me. In addition, if you've been out of the lab for a few years (four in my case), it is a good opportunity to demonstrate to the MRC DTP interview board and to your future supervisor that you are ready for a PhD – it is very hard to get this across in a personal statement only! My advice would be to read around the projects and then contact the supervisor of the project you are most interested in as soon as possible to try and arrange a meeting.