Ian Storey
Project: MRI Radiomics of adult brain tumours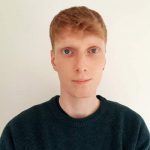 What were you doing before you joined the MRC DTP scheme?
Before joining the MRC DTP scheme I was working as a software developer whilst carrying out a Masters degree in Computer Science focusing on Multiple Sclerosis Segmentation in clinical MRI data.
Why did you choose your primary institution (LSHTM or SGUL)?
I had the opportunity to meet my prospective supervisors to find out more about the project and was drawn to their enthusiasm and interest in where we could take the research. I also find that being based in a working hospital is a great opportunity to meet a wide variety of people from research and clinical backgrounds carrying out unique and interesting projects.
What do you enjoy most about your day-to-day work and the people you work with?
Our office is comprised of MRI physicists, mathematicians, neuroscientists and programmers so if anybody has a problem there is always someone there to lend a hand, and if a problem is too big for one person we all pull together and find a solution. I'm also free to push the boundaries of my project goals and incorporate satellite experiments and projects which take me down interesting avenues of exploration and adds to my portfolio.
What do you value most about the MRC DTP studentship?
The MRC DTP cohorts are welcoming and friendly and at SGUL we frequently see one another throughout the week and whenever we organise nights out. The MRC admin are really approachable and helpful, and I feel supported as I'm carrying out my research.
What additional training have you attended with MRC DTP money?
I've had the opportunity to attend talks on deep learning and medical imaging at the Turing Institute as well as training on software development at UCL. I'm also planning to attend at least two conferences over the next two years in my research field.
Where did you go on your placement? What did you do?
I haven't managed to go on my placement yet.
Do you have any tips for future MRC DTP scholarship applicants?
I'd recommend meeting your prospective supervisors before applying for a specific project to find out their vision for the research as this was a huge boost for me and committed me to my application. When I applied there were times that I considered stopping as I didn't believe I could actually get onto a PhD scholarship, the best decision I ever made was to ignore those doubts! Best of luck.