James Orsbourne
Project: Mosquito biting behaviour and arboviral transmission: interactions between intrinsic host preferences and local environmental conditions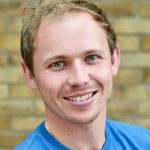 What were you doing before you joined the MRC DTP scheme?
I worked as a research assistant at LSHTM for 18 months. Prior to that, I was enrolled on an MSc course at the Liverpool School of Tropical medicine.
Why did you choose your primary institution (LSHTM or SGUL)?
I wanted to stay in the field of research following on from the skills I learned as a research assistant and from my masters. The London School is one of the best institutions in the world for research in this field; therefore, it was an obvious choice to apply here.
What do you enjoy most about your day-to-day work and the people you work with?
I enjoy driving my own research and developing your own objectives and goals. You also learn to manage your own time and become an independent researcher. The team I work with are supportive and happy to discuss ideas. This helps develop my own research as well as contribute to others.
What do you value most about the MRC DTP studentship?
The placement, it is a great opportunity to branch out of academic research and see what other areas the skills you are learning can be applied.
What additional training have you attended with MRC DTP money?
A significant part of my PhD is mathematical modelling. Prior to starting this PhD I had no experience in this field. Since I have started, I have attended a Mathematical modelling MSc module at LSHTM as well as worked with an advisor to help develop and learn skills in mathematical modelling. I have also attended a GIS course and introduction to teaching courses at LSHTM.
Where did you go on your placement? What did you do?
I am currently developing ideas on where to go on my placement. We are hoping to work within the CDC in Atlanta but we are exploring other options outside of academia.
Do you have any tips for future MRC DTP scholarship applicants?
Look at projects that will allow you to develop new skills and techniques.