Quentin Leclerc
Project: What drives antibiotic resistance diversity? Modelling for MRSA control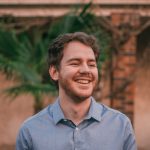 What were you doing before you joined the MRC DTP scheme?
I previously completed a BSc in Microbiology and an MSc in Epidemiology, both at Imperial College London.
Why did you choose your primary institution (LSHTM or SGUL)?
I chose LSHTM because it's a world-leading institution in public health, so I thought it was the best place for me to go to complete a PhD. I also wanted to stay in London, so it worked out perfectly!
What do you enjoy most about your day-to-day work and the people you work with?
I think the diversity is one of the highlights. Even though we all work on similar topics, there is a surprising variety of backgrounds! For example, I come from a microbiology background while my supervisor comes from a mathematics one. This makes all the discussions with colleagues even more enjoyable, as everyone has a unique perspective they can share.
What do you value most about the MRC DTP studentship?
The Research Training and Support Grant that comes with the studentship is incredibly valuable to make sure we are in the best possible conditions to complete our PhD, as it can be used to support a range of expenses (consumables, equipment, conference attendance…). I also think that the placement is a great opportunity, and there are many ways to get a lot out of it (go abroad, work in industry, learn a different set of skills…).
What additional training have you attended with MRC DTP money?
I attended various short courses thanks to the studentship money, notably the model fitting short course at LSHTM and a few modules in the Summer Institute in Statistics and Modeling of Infectious Diseases.
Where did you go on your placement? What did you do?
For my placement, I went to work at GlaxoSmithKline in Brussels, Belgium. I joined the Vaccine Value Evidence team, to work on a range of health economics questions. This was a really enjoyable experience, and I learned a lot (about health economics, but about Belgian culture too!).