Tash Clarke
Project: Digital discourse as clinical data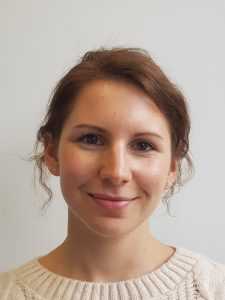 What were you doing before you joined the MRC DTP scheme?
Working as a Clinical Research Coordinator with the Stroke Research team at St George's Hospital.
Why did you choose your primary institution (LSHTM or SGUL)?
I had previously worked with my supervisor at SGUL as a Research Assistant, so I knew the project was exactly the kind of research I wanted to be doing, and how the expertise and facilities at SGUL could support me.
What do you enjoy most about your day-to-day work and the people you work with?
I love that my days can be very varied – one day I'll be in clinic or hospital meetings recruiting patients for my study, another I'll be carrying out neuropsychological testing, and then others I'll be reading on my subject area or analysing data. I work alongside other PhD students at different stages of their degrees, as well as Postdocs, so we can all help each other.
What do you value most about the MRC DTP studentship?
The provision of funds for training is invaluable – I have been able to undertake some excellent training that I would not have had the chance to do otherwise. Some is very relevant to my 'core' research, and some is more geared towards me being a highly trained researcher with a different skillset, that will help me after my PhD.
What additional training have you attended with MRC DTP money?
I have attended training on Patient and Public Involvement in research with the NIHR, Coding Skills for Data Analysis with the UK Data Service, and Data Visualization with David McCandless from Information is Beautiful. Most crucial to my PhD, I was able to spend a semester at the University of Colorado Boulder, attending classes relevant to my project and working with Professors and researchers to further my knowledge and skills.
Where did you go on your placement? What did you do?
I joined the Communications team at the UK Dementia Research Institute for a three-month science communication placement. This was a very varied placement where I had the opportunity to work on different projects, including a public engagement project using virtual reality at a science festival, to show children and adults what a UK DRI laboratory is like; writing summaries of research projects and papers suitable for a non-scientific audience, published on the institute website; promoting the work of the institute on social media, and working on re-vamping the institute website. My main project was writing a script and storyboard for an animation, taking the vision and strategy of the UK DRI and creating a short video that could be used in meetings, such as with MPs and stake holders, and across social channels. I would highly recommend a placement in science communication for anybody on the scheme, as it gives you a very varied experience with a lot of opportunities, and provides an excellent general overview of the research landscape that you're working in.
Do you have any tips for future MRC DTP scholarship applicants?
Get in touch with current students to ask any questions, and contact the supervisor that you would like to work with early on in the application process. Good luck!